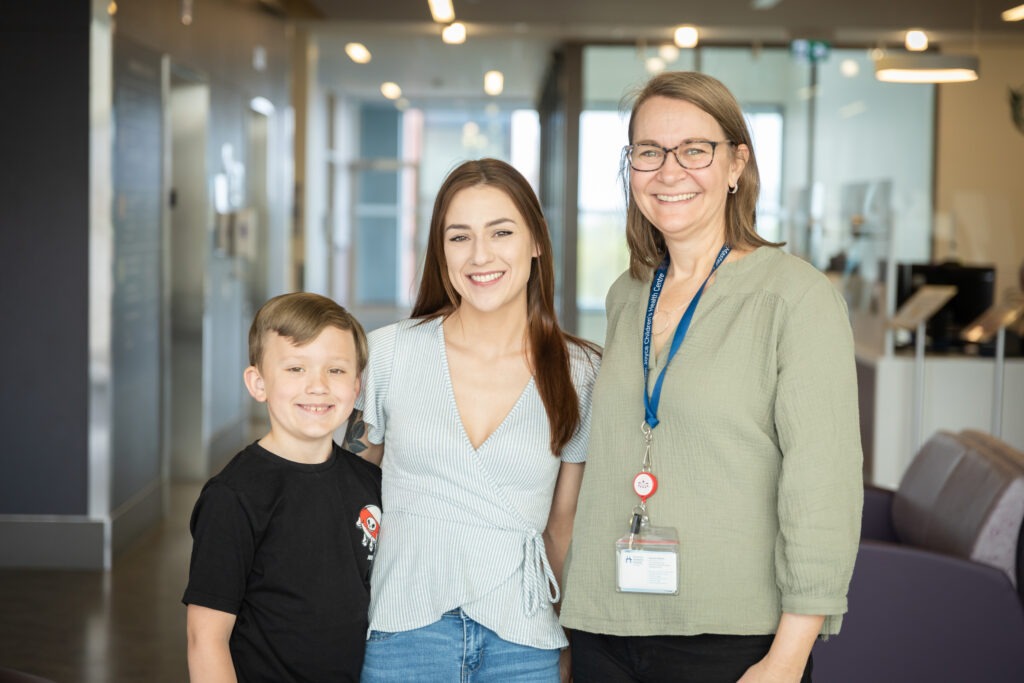 Empowering parents through the MCH Family Check-Up program
When Braxton Rose was struggling with attention-deficit/hyperactivity disorder (ADHD) and impulsiveness, Tamara Krbavac, an infant-parent therapist with the Child and Youth Mental Health Program at McMaster Children's Hospital (MCH) worked with Braxton and his mom to provide support at home and school.
Seven-year-old Braxton and his mom are part of the Family Check-Up (FCU) Program at Ron Joyce Children's Health Centre (RJCHC), which is part of our Hamilton Health Sciences McMaster Children's Hospital. The FCU is a family-centred intervention program focusing on parenting strengths and the social and community networks available to support families. It offers parents and caregivers simple, practical skills to address the challenges they're facing.
"It's really important to listen to the parental experience and seek out what might help motivate change," says Krbavac. "When we're able to better understand a family's situation, we're better equipped to offer support."
The FCU program focuses on collecting information from parents/caregivers about themselves and their child or youth. This includes observing the interaction of the parent/caregiver and their child and a feedback session that allows the FCU clinician to gather more context. At the end of the feedback session, parents/caregivers are encouraged to set some goals for their parenting, their own well-being, and the well-being of their child.
A welcoming start
"When I received a call back from the Family Check-Up Program I was thrilled," says Sam Marechal, Braxton's mom. "Tamara made me feel extremely comfortable and explained the program to me in detail, and I was thrilled to be on this pathway with someone who cares so much."
Braxton started the FCU program when he was six years old with most of his sessions taking place at the RJCHC. Krbavac also attends Braxton's school to evaluate his behaviour in different environments, including communicating with the team at school. This is part of creating a tailored plan that helps provide support in introducing new skills and techniques for challenges being faced.
Providing the framework for success 
Based on Krbavac's assessment, she and mom came up with a plan which helps to address effective language and use of praise. The focus is on three key areas for parenting: positive behaviour support, incentives and encouragement, and limit setting and monitoring.
"The assessment helped Braxton's mother observe her strengths in parenting and recognize the areas she feels are challenging for her," says Krbavac. "At the end of the FCU assessment, she was able to set goals to enhance her parenting in an effort to support the challenges she observes in Braxton."
"During my time with Tamara a lot of the progress we've achieved has benefited me in many ways, and helped provide me with extra support for Braxton," says Marechal. "Through communicating efficiently and clearly, I learned how to get more out of a conversation with Braxton when he is struggling."
Seeing the results in moments
The FCU assessment includes completing brief tasks that are video recorded as well as  questionnaires providing information about the parent and child. Feedback sessions are conducted where Krbavac and the families she works with review the interactions and behaviours from the video, as well as the information provided from the questionnaires.
"There were moments when Sam and Braxton were really connected," says Krbavac. "Watching these back with the parent was very powerful, and it helped mom recognize the power of her non-verbal relationship with her child, and how valuable these moments can be."
Marechal also found value in reviewing the video. "When I look back at the recorded sessions, I watched a special moment of Braxton and me doing a puzzle and talking. As parents, we see our kids constantly and become almost blind to our reactions. Looking back with Tamara, I realize my tone can change Braxton's body language and expression. This opened my eyes and gave me the strength and motivation to make changes not only for myself, but for my son."
Impact of parents
Meanwhile, Krbavac found Marechal's insights inspiring. "I was so moved by this parent's insight and honesty. It really struck me how dedicated and willing she was to be the person who initiated the change."
Marechal adds, "Working with Tamara has given me a boost of confidence that I very much needed to help me in my parenting journey. I've struggled to see the light at the end of the tunnel and always felt like I could be failing Braxton by not doing enough. Tamara brought so many things to light for me, and it really made me feel like a stronger mom."
Words of gratitude and confidence
"The FCU program is extremely beneficial to parents of youth who are going through a hard time," adds Marechal. "Through this learning process, I've been able to take additional steps to support my son, and stopped worrying that I wasn't doing enough. The vast amount of feedback and advice opened my eyes to so many things I didn't see before, and confidently guided me toward the right path to make changes."
The family has made great progress through the FCU program, and Krbavac's work personally supported Marechal's parenting journey. "I strongly feel that because of how personable and caring she is, it made it an easier process for us. I appreciate her hard work and effort with my family."
Related Posts