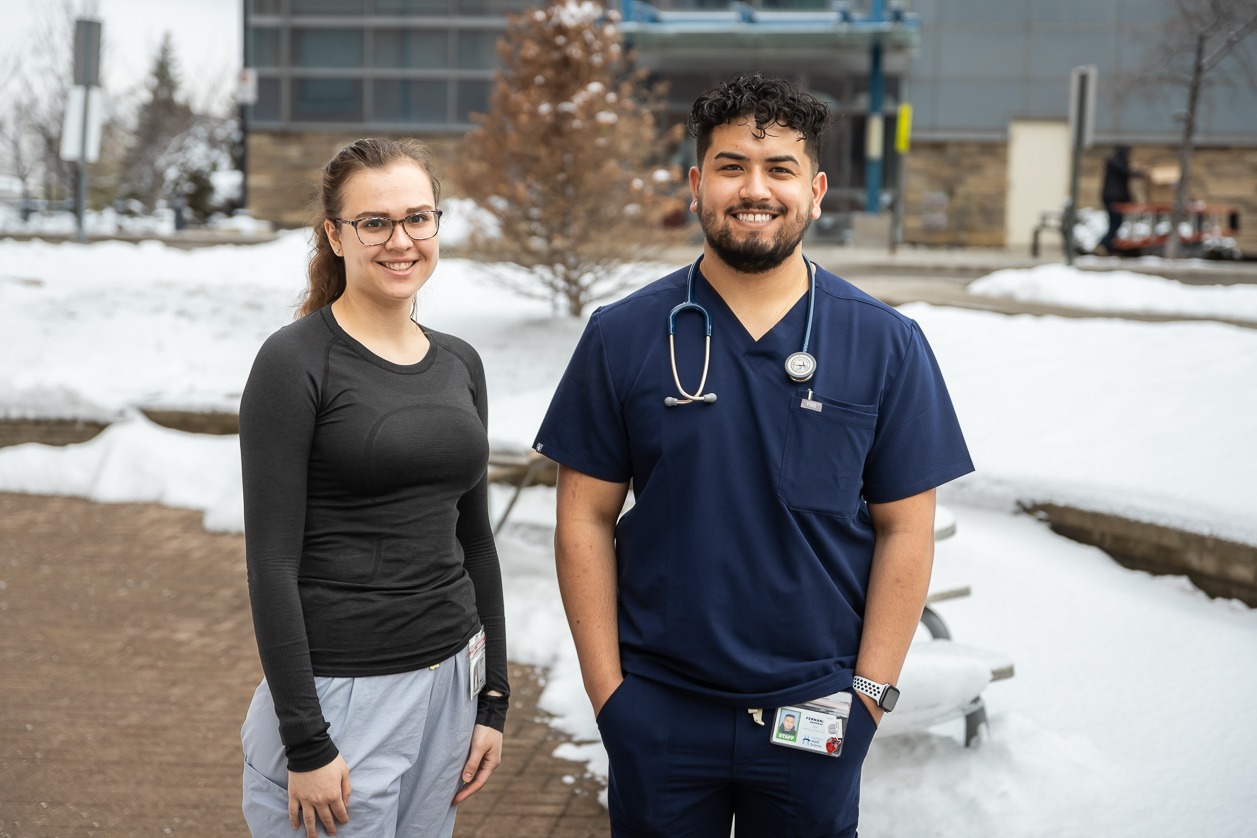 Curiosity, caring inspire nursing careers
Health Care: The Next Generation
Staffing shortages triggered by the pandemic continue to impact hospitals across the province, including Hamilton Health Sciences (HHS). One of the innovative ways that HHS is addressing shortages is through the provincially-funded clinical extern program, created by the province to provide additional health-care support to hospitals.
Senior university and college students in nursing, occupational therapy, respiratory therapy, physiotherapy and paramedic programs can apply to work at HHS hospital sites as clinical externs. Students work at least one shift per week, with a typical shift being eight to 12 hours.
A passion for nursing
For as long as Fernando Naranjo can remember, he's been deeply curious about how things work. In high school, this inquisitiveness drove him to the trades.
"I took all the shop programs that were available, like welding, auto shop, woodworking and machine shop," says the Kitchener resident, now a 23-year-old nursing student who will graduate in April from the McMaster-Mohawk-Conestoga bachelor of science in nursing program offered at Mohawk College. For over a year, Naranjo has also worked as a clinical extern at HHS' Hamilton General Hospital (HGH).
Fernando Naranjo was inspired to pursue a career in health care after his father passed away from congestive heart failure.
While externs aren't registered health-care professionals yet, they make significant contributions by helping with tasks they're allowed to perform as unregulated care providers such as bathing, personal hygiene care, dressing, eating, mobilization, and companionship and support for patients and their families.
Externs can also complete other tasks, depending on their area of care and patient population, when delegated by a regulated health-care professional. These tasks can include capillary blood glucose testing, nasopharyngeal/nasal/rectal swabbing, and removal of peripheral IV and urinary catheters.
Staff welcome the extra hands-on-deck, and students gain valuable work experience at HHS, recognized for the second year in a row as one of Canada's top employers for young people.
From shop class to nursing school
"Back in high school, I thought I would become a plumber or an electrician," says Naranjo. "I didn't take any science courses that weren't mandatory. Plus, no one in my family worked in health care, so it never occurred to me as a possible profession."
"I had an interest in cardiology because of what happened to my dad." — Fernando Naranjo, nursing student and HHS extern
Then, when Naranjo was 16, his father died from congestive heart failure. Devastated, he wanted to know what, exactly, caused his dad's heart to give up. "I remember Googling his cause of death and trying to understand what happened. Now, because of nursing, I know."
After high school, Naranjo took a year off to consider his options. By then, his interests had broadened to include health care. "I still found the trades interesting, but I wanted to work with people and support them in a significant, meaningful way."
He enrolled in a one-year, pre-health sciences program at Conestoga College, which introduced students to a variety of health-care career options, and decided to pursue nursing.
"I had an interest in cardiology because of what happened to my dad," says Naranjo, who applied for an HHS extern job during his third year of nursing studies. His father's death inspired him to work on the cardiac care unit.
"I really enjoy this patient population and appreciate the great mentorship by the cardiac care unit nurses," says Naranjo, whose goal is to work as a nurse on the unit once he graduates.
Inspired by HHS nurses
Fourth-year McMaster nursing student Tatiana Gajcevic is an HGH extern on 6 South, a trauma/general surgery ward with a unit for patients requiring closer monitoring.
The Newmarket resident loves the 6 South team. "Work culture is a huge consideration when you're a new grad deciding where you want to start your career, and I feel embraced by this team," she says.
"There are so many options, especially within a large hospital system like HHS." — Tatiana Gajcevic, nursing student and HHS extern
"They're very welcoming and open to teaching. I'm so fortunate to have found them and have the opportunity to work, learn and grow alongside them. Their influence has played a huge part in shaping me into the nurse I will be as I enter the profession, and for that I will be forever grateful."
Something for everyone
Gajcevic is passionate about bedside nursing. But it's also a career with a wide-range of options. "There's something for everyone," says Gajcevic.
"If you're passionate about helping people and you want to work in the health-care system, nursing offers a lot of variety and avenues to choose from. Nurses can work in specialty clinics, the operating room, in occupational health, in research or in management. There are so many options, especially within a large hospital system like HHS."
More about our clinical extern program
This program has continued to grow over the past two years, bringing even more potential health-care workers to HHS:
Since launching the clinical extern program in early 2021, HHS has hired 126 nursing clinical externs as registered nurses and registered practical nurses after they graduated, as well as seven respiratory therapy externs as registered respiratory therapists.
As of February, HHS had 200 nursing externs, 12 occupational therapy externs, 10 respiratory therapy externs, five paramedic externs, and three physiotherapy externs.
Externs work at Hamilton General Hospital, the Regional Rehabilitation Centre, Juravinski Hospital and Cancer Centre, McMaster University Medical Centre, McMaster Children's Hospital, West Lincoln Memorial Hospital, St. Peter's Hospital, the Satellite Health Facility and the Virtual Nursing Station.
The majority of HHS externs are from McMaster University and Mohawk College, as well as Brock University, Niagara College, Western University, Fanshawe College, and Toronto Metropolitan University. A few are from further afield, such as the University of Ottawa, University of Windsor and Laurentian University in Sudbury.
81 nursing externs are expected to graduate in April, along with nine respiratory therapy externs. In August, 11 occupational and physiotherapy externs will graduate. Most graduates choose careers at HHS. For those who don't, it's typically because they're returning to their hometowns to work.
This story is part of a series featuring students gaining hands-on experience at HHS
Related Posts